The coronavirus pandemic has paralyzed the entire world, locked us in our homes, and completely changed our lives. Schools, universities, institutions, restaurants, hotels, public transport, religious sites were all closed and everything was transferred to the online world. In moments that were extremely difficult for the entire planet, during the very beginning of the pandemic, the religious holidays of most religions were coming. The spiritual life of people has also undergone a transformation, it has undergone certain changes. Although spirituality and faith are not strictly related to religious sites, yet the community and what the place of worship provides could hardly have been completely replaced by online services and prayers at home, but still this had to be adapted.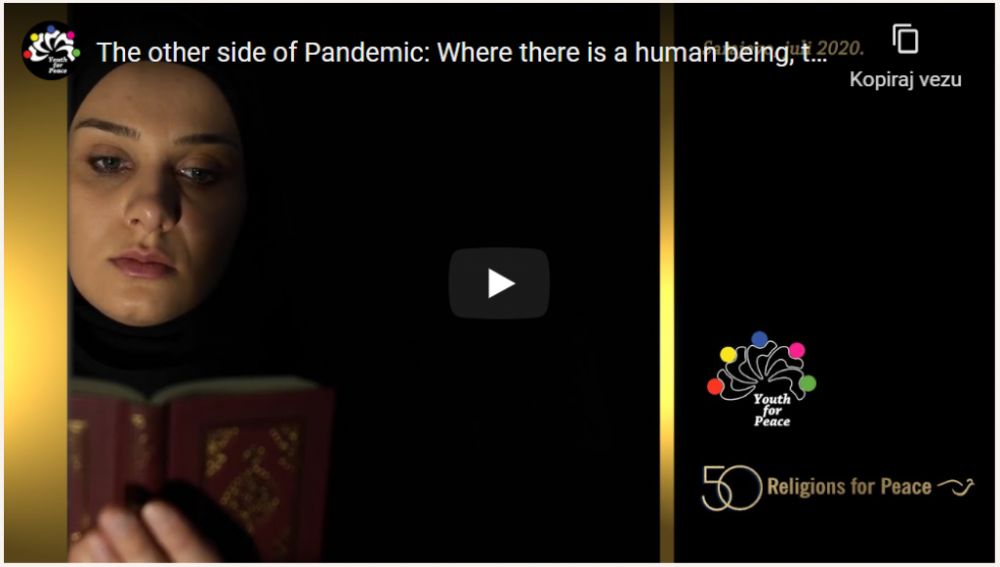 For this reason, Youth for Peace, in cooperation with Religions for Peace, decided to implement a project that will show the other side of the pandemic and show how religious leaders, women, and youth coped in this period, how they transformed their lives and nurtured spirituality in the age of the COVID 19. From April to October 2020, Youth for Peace conducted interviews with 25 participants and released 19 videos covering various topics related to life during the pandemic. In addition, in September we visited some of the participants, talked to them, and made an additional 3 videos in which we could talk to the participants in person about how they reflect on the period behind them, and what are the most important things and messages they learned from the period since COVID 19 pandemic started.
During the project, more than 6,000 people saw our videos that were posted on the Youtube channel and the Facebook and Instagram pages of Youth for Peace. You can read more about this project on the Religions for Peace website in the text "Youth for Peace" Deliver Hope and Spiritual Resilience in Bosnia and Herzegovina during COVID-19 which was created as a result of an interview with our program coordinator Emina Frljak.