dozivi
"doŽIVI Bosnu i Hercegovinu" is the Youth for Peace project within the program "Corpi Civili di Pace" for volunteers who live and work in Bosnia and Herzegovina for a year. Volunteers, Diana and Domenico will visit, explore and get to know cities, municipalities and countryside across BiH.
Traveling, they will fulfil certain tasks, and with a lot of photos and their experiences, will publish them on this blog. Tasks will be interesting, educational and funny, but not that easy and simple. Volunteers will travel separately and visit different places, so we can follow them on their journey and see who will fulfil more tasks, make more photos and acquire more experiences and knowledge. Diana and Domenico will tell us a story about BiH, through their eyes.
Diana in Zvornik
info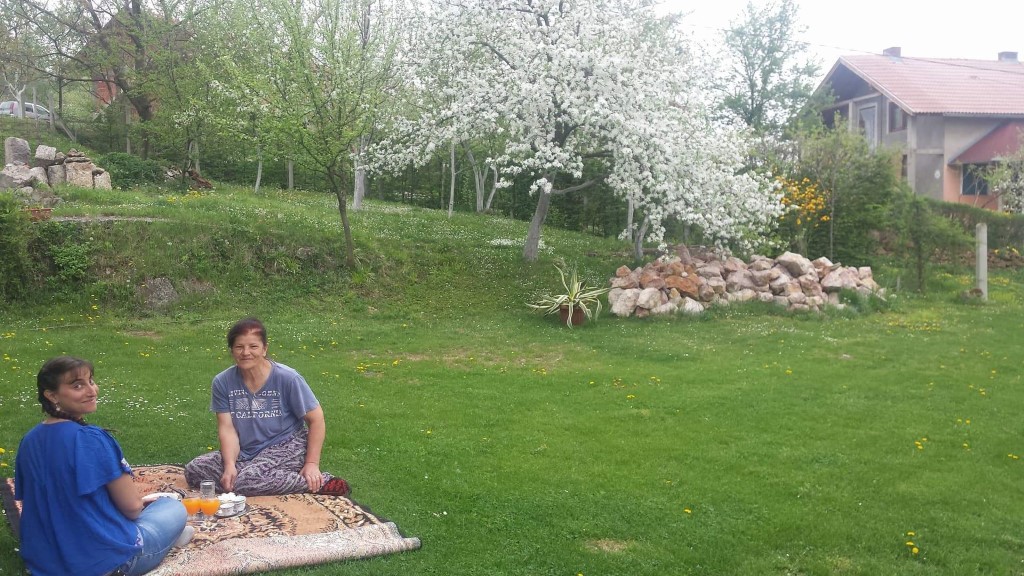 In the third trip Diana was hosted by Mebrura and her aunt in Zvornik. This trip was a little bit different because of the late pregnancy of her host. Nevertheless, Diana had the opportunity to see the real Bosnian life in countryside and, culturally speaking it was very interesting and productive. The two girls went to Srebrenica and Potočari monument and museum. After they went to Zvornik, to Kula Grad (city of the tower), to visit the old citadel and the fortress. In Sunday, accompanied by Emina, Mebrura's aunt they visited Tuzla city.
Diana in Trebinje
info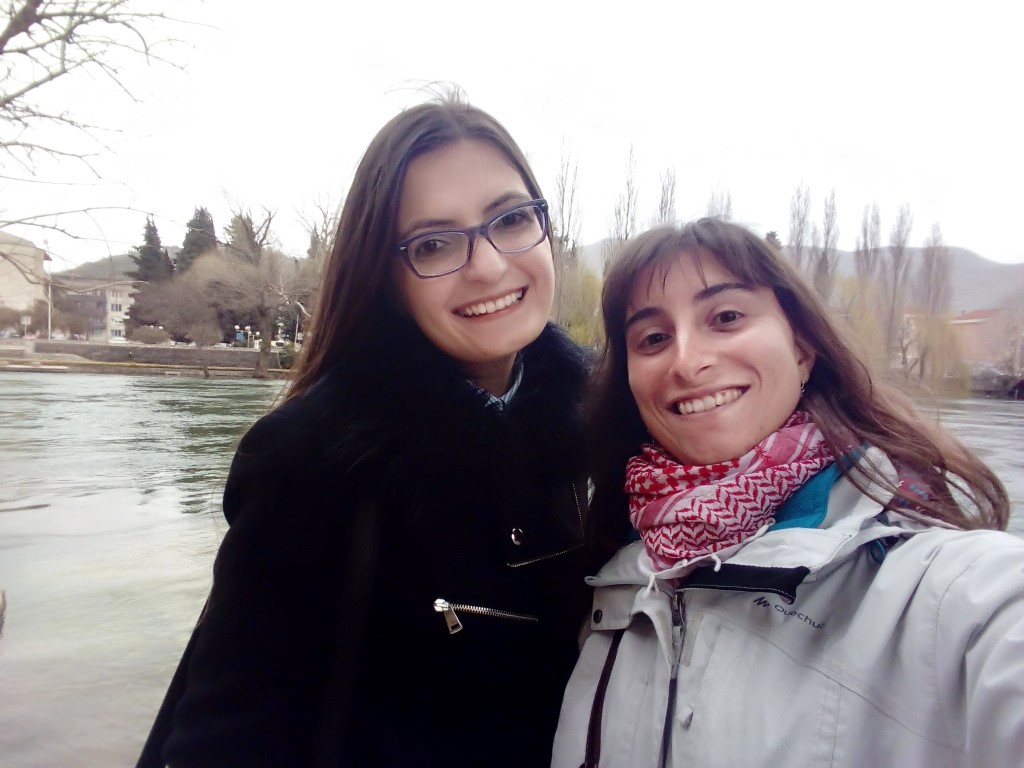 From 16th to 18th of March 2018 I visited Trebinje, thanks to my host Nikolina and her family. During this weekend I could discover a completely different part of the Country. Here you can breathe a sea air, the weather is warmer and is sunny for 270 days per year and I was so lucky that I took one of the few days of rain! Instead of this we really enjoy the city, walking in its small Ottoman streets, visiting Crkvina, Orthodox Church, and enjoying each other's company. Moreover, we met with members of local Red Cross Aleksander Koprivica and Marko Savović, that pointed out the increasing problem with migrants entering in the country. We also spoke with local imam, Efendi Sadmir Mustafić, a young clever man, who underlined, once again the problem of the lack of nativity in the community. I also had the honor to meet Rade Aleksić, father of Srđan Aleksić. He is a pretty spry old guy updated on every news regarding Trebinje and very wise. "We should learn to love ourselves and the others", "Srđan lives in the people, in their memories of him": these are the words that mostly impressed me.
Thanks to Nikolina and her mother for the opportunity of participate to Orthodox liturgy. Also, it's been so nice to see them participating, for the first time, to Catholic one. And thanks to all the family for the warm welcome and hospitality.
Diana in Srebrenik
info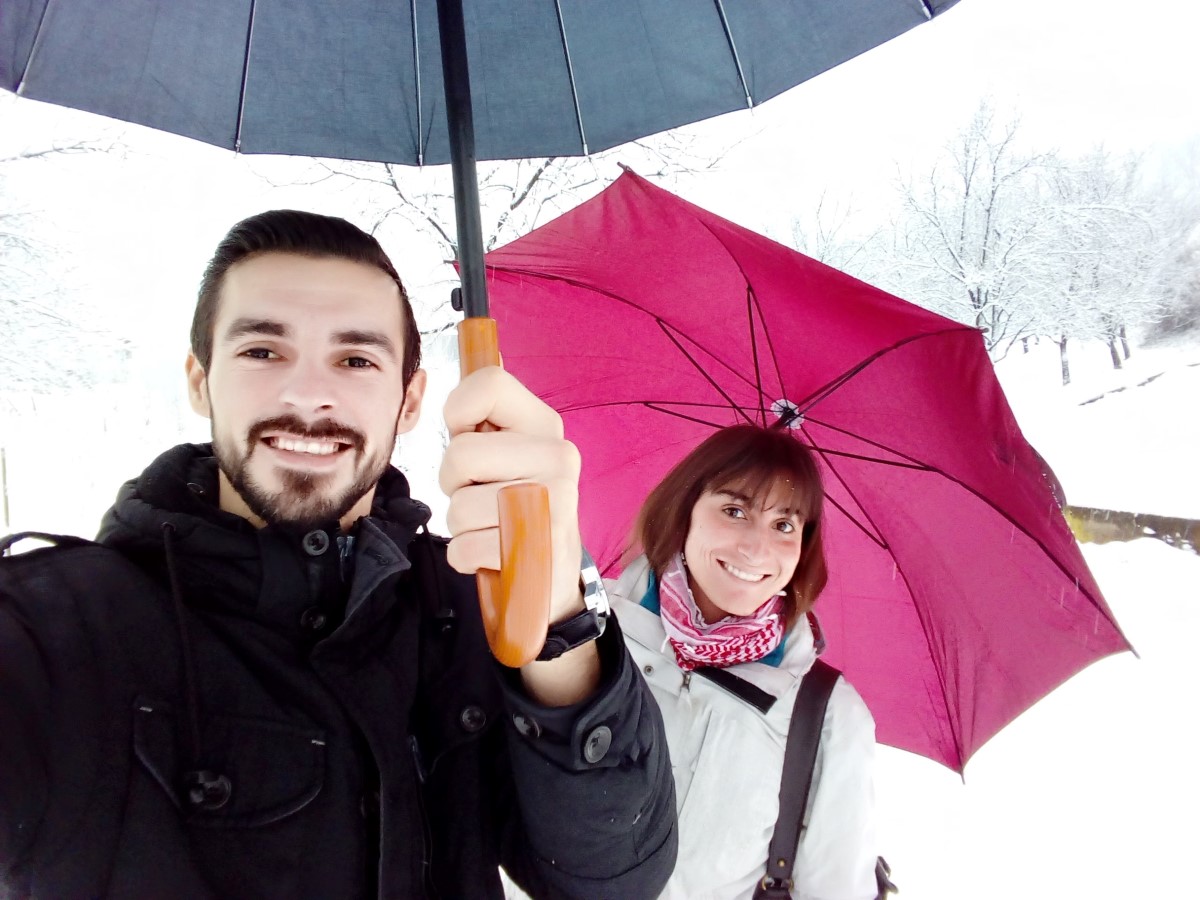 During the weekend from 2nd to 4th of February I visited Srebrenik guest of Emir's family. It was a great experience, I could live for a couple of day as "real Bosnian", following their costumes and traditions. I realize how much the guest is sacred for them, how much the guest goes first and should have the best of everything. I'll thank Emir and his family for ever for their kindness and their warm welcome.
During this three days I also had the chance to start to build a new, more complete, image of Bosnia and Herzegovina. I met the Youth group of local Red Cross and I had the chance to propose them a small workshop on social inclusion and cultural shock. As well as I had the chance to speak with local Orthodox priest, Spasoja Radovanović, Catholic one, Miroslav Ikić, and Imam, Osman Mujić. The three of them, speaking about their communities, pointed out almost the same problem: the lack of nativity and the emigration of Youth. At last, but not least, I also had the chance to visit two important places for the history of this Country: Gradina Castle and Gradačac Castle.
Domenico in Pale
info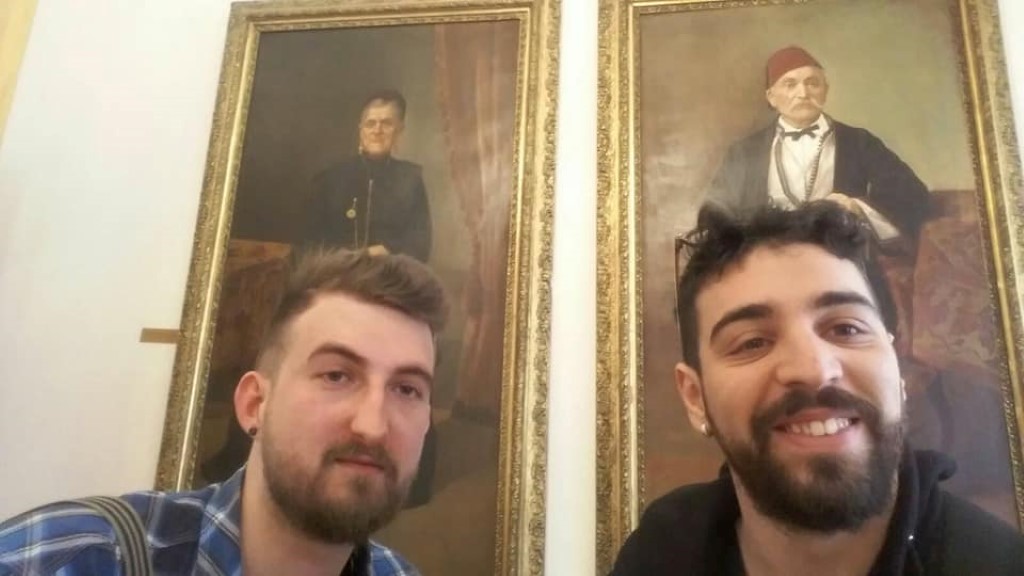 The weekend from the 13th to the 15th of April, I've been guest of Milan, a Youth for Peace member that hosted me in Pale. Pale is close to Sarajevo, and in 30 minutes ride by bus I was there. It's a city situated in Republika Srpska, to reach it we cross a "border" between Federation of BiH and Republika Srpska. I've been there several times before, but not with the purpose to make a tour of the city, so I had the chance to see Pale from another point of view: in a more cultural and historical way.
The first day of my visit we saw all the important sights of Pale like the Culture Centre of Pale, built in 1928 as a memorial for the victims of the First world war that later became the Television of Republika Srpska. Then Milan took me to the Ceković house, built in 1915, that became national monument of BiH in 2004. It really stroked me when I saw that there wasn't any kind of organization to take care of the house and, while the ground floor of the house became a bar, the first floor with the museum inside is totally abandoned and not used at all. The potential was huge but nobody could take care of it and use it in a proper way, let's say.
During the Olympic games Pale was one of the most active centers hosting thousands of athletes, also cause is the nearest place from Jahorina (that was the most important Ski center during the games) and that's why in 1992 the artist Veljko Vasljević form Trebinje made the sculpture "Olympic snowflake" a statue made in Honor of the city of Pale. Milan also showed me the Japanese sculpture of the Japanese artist Kotasakai that this artist made during his stay in Bosnia and Herzegovina. For me this statue was quite strange: the statue is situated in front of a mall, in the most important walk of Pale, without anything about who made it, why he made it, we have to google it to find out some information about this opera. Quite strange let's say.
Domenico in Goražde
info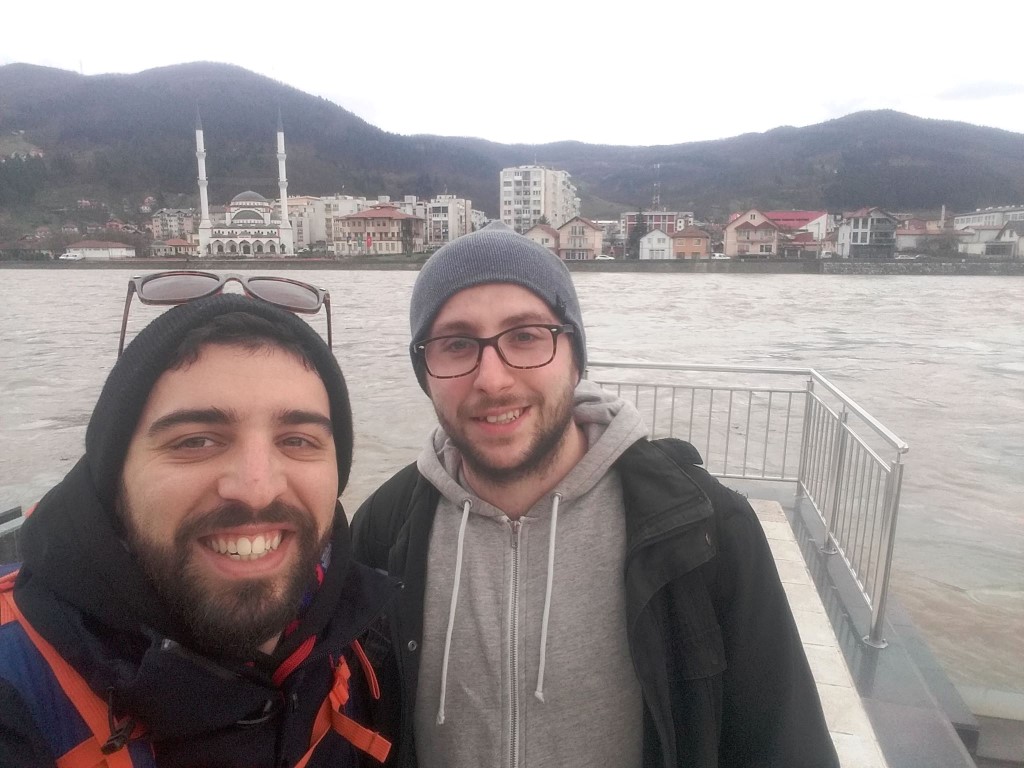 In the weekend from 16th to 19th of March I have been guest of the Homoraš family in Goražde. As a second trip they invite me in this town where I spend my three days. The first night we (me and Adel) make a brief tour of the city and I had the chance to meet his mum, then we went to the cultural centre.
Domenico in Banja Luka
info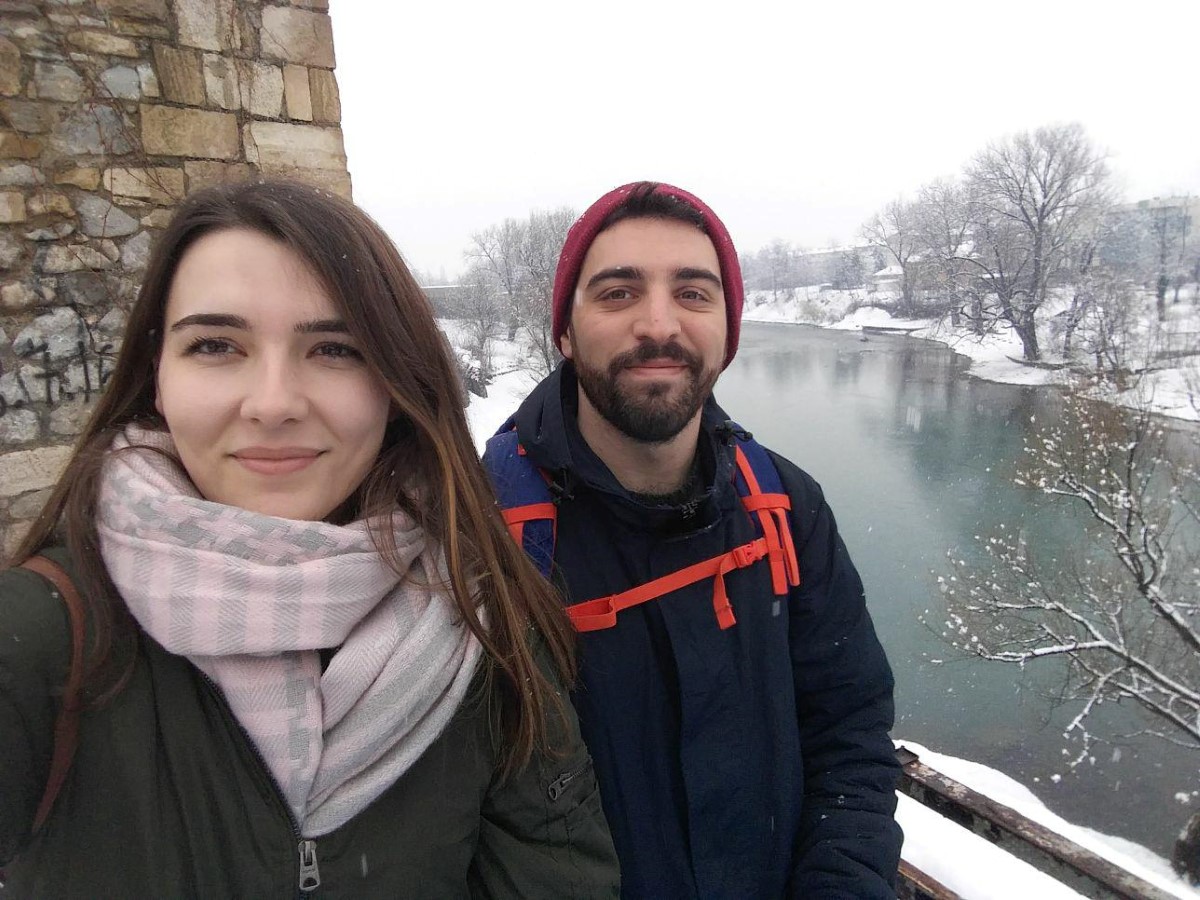 I have arrived in Banja Luka during the afternoon of the 2nd of February, I have been hosted by the Dejanović family, particularly by Dajana, member of YfP. She was guiding me during the visit through the city, helping me with the translations and giving me a place where to sleep, near the city theatre.