Pandemija korona virusa paralisala je cijeli svijet, zaključala nas u naše domove te u potpunosti izmijenila naše živote. Škole, univerziteti, institucije, restorani, hoteli, javni gradski prijevoz, vjerski objekti sve to je zatvoreno i svi sadržaji bili su prebačeni u online svijet. U trenucima koji su bili izuzetno teški za cijelu planetu, tokom samog početka pandemije vjerski praznici većine religija kucali su na vrata. Duhovni život ljudi je također doživio transformaciju, doživio je određene promjene. Iako duhovnosti i vjera nije striktno povezana sa vjerskim objektima, ipak zajednica i ono što mjesto bogosluženja pruža teško da su mogli biti u potpunosti zamijenjeni online službama i samostalnim molitvama kod kuće, ali ipak se moralo prilagoditi.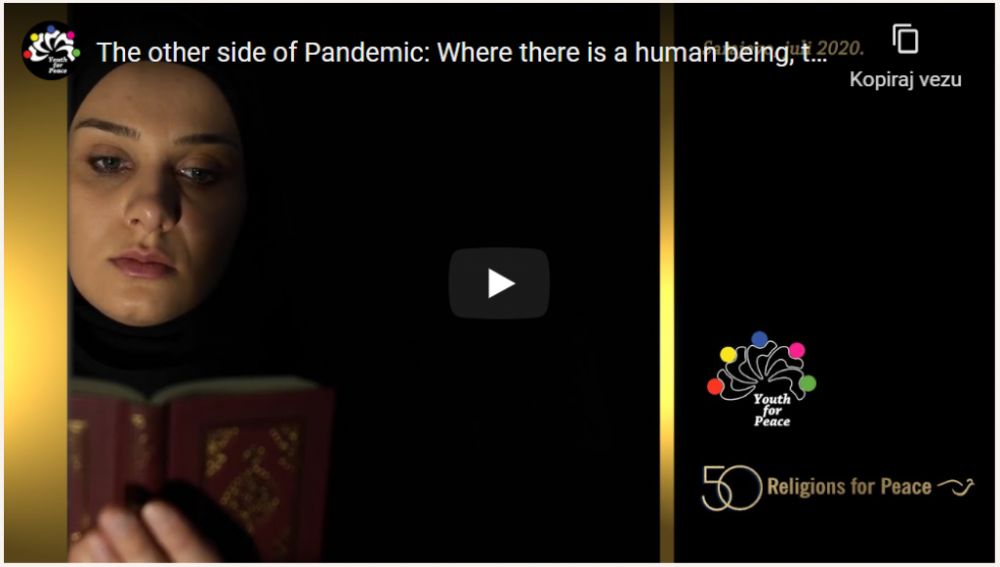 Upravo iz ovog razloga, Youth for Peace je u saradnji s Religions for Peace odlučio da realizira projekt koji će prikazati drugu stranu pandemije te pokazati kako su se vjerski lideri, žene te mladi snašli u ovom periodu, kako su oni preobrazili svoj život i njegovali duhovnost u doba korone. Od aprila do oktobra 2020. godine Youth for Peace je realizirao intervjue sa 25 učesnika, te objavio 19 video klipova koji su pokrivali različite teme vezane za život u toku pandemije. Pored toga u septembru smo posjetili neke od učesnika, porazgovarali s njima te napravili dodatna 3 videa u kome smo mogli da pričamo s učesnicima uživo o tome kako gledaju na period iza njih, te koje su to najbitnije stvari i poruke koje su naučili iz prvobitnog perioda pandemije korona virusa.
Tokom trajanja projekta više od 6000 ljudi vidjelo je naše video klipove koji su bili objavljivani na Youtube kanalu, te Facebook i Instagram stranicama Youth for Peace. O ovome projektu moguće je više pročitati na stranici Religions for Peace u tekstu "Youth for Peace" Deliver Hope and Spiritual Resilience in Bosnia and Herzegovina during COVID-19 koji je nastao kao rezultat intervjua sa našom programskom koordinatoricom Eminom Frljak.