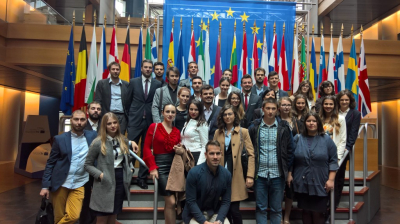 Youth for Peace has been honoured to participate in Summer European Academy. The Academy was organized by European Academy Otzenhausen, Asko Europa Foundation and Konrad Adenauer Foundation and took place in Otzenhausen, Germany in May, 1st till 9th. Main topic of Academy is summed in its title "Encounter Europe - Current challenges of European Integration – civic participation in best practice". 35 participants from South Eastern Europe came together to give active participation in Academy, delivering their perspectives from respective countries. All participants were coming with huge experience in non-government and political sector, either.
Youth from Croatia, Slovenia, Bosnia and Herzegovina, Serbia, Kosovo, Montenegro and Albania spent nine days speaking about current challenges in Europe such as: Migration Policy – How to deal with Refugees; European Perspectives for South Eastern Europe; A common Future for Europe – Sketching the big picture with new insights; Collective Leadership and Intelligence – power for non-profits; Social engagement and entrepreneurship in Europe. Beside presentations and panel discussions the group had paid study visits to cities of great importance for European Union. Schengen, Luxembourg and Strasbourg were stations during EU caravan. Finally, during visit to Saarbrucken, public panel discussion "In-between cultures and religion, past and present" has been organized while lectures were Ms Doris Pack, Ms Gabriela Vojvoda and Mr Daniel Gjokjeski, youth representative of the Group.
The group has grown during the Academy and made firm relations among self. Brainstorming sessions gave them possibilities to think about activities which would be interesting and important to be implemented in the region, being related to current challenges and EU integration processes. Youth have rediscovered some ideas and found peers with similar thoughts in the region.