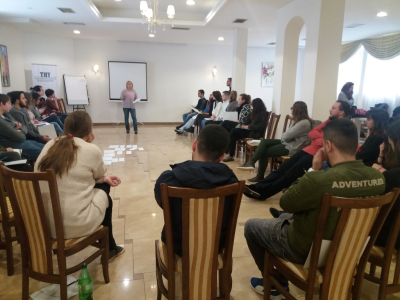 From 21st to 28th of March 2018 YfP members Dajana Dejanović, Antonela Opačak and Diana Cossi, volunteer from Italy, participated in a training course in Prizren, within the project SESD (Supporting Employability through Self-Development), supported by European Commission through Erasmus+ program. Participants were coming from ten different countries: Kosovo*, Albania, Macedonia, Serbia, Bosnia and Herzegovina, Croatia, Romania, Bulgaria, Germany and Italy.
Participants spent a week attending workshops about self-development techniques, role plays, job interview simulations. The training was very intense and useful. YfP members were call to put themselves out and prepare an innovative workshop on development of skills for a better employability. Also, Diana Cossi facilitated a workshop regarding Erasmus+ program.
The training course served also as preparation to draft future local activities which will be held in each country involving at least 25 youngsters.