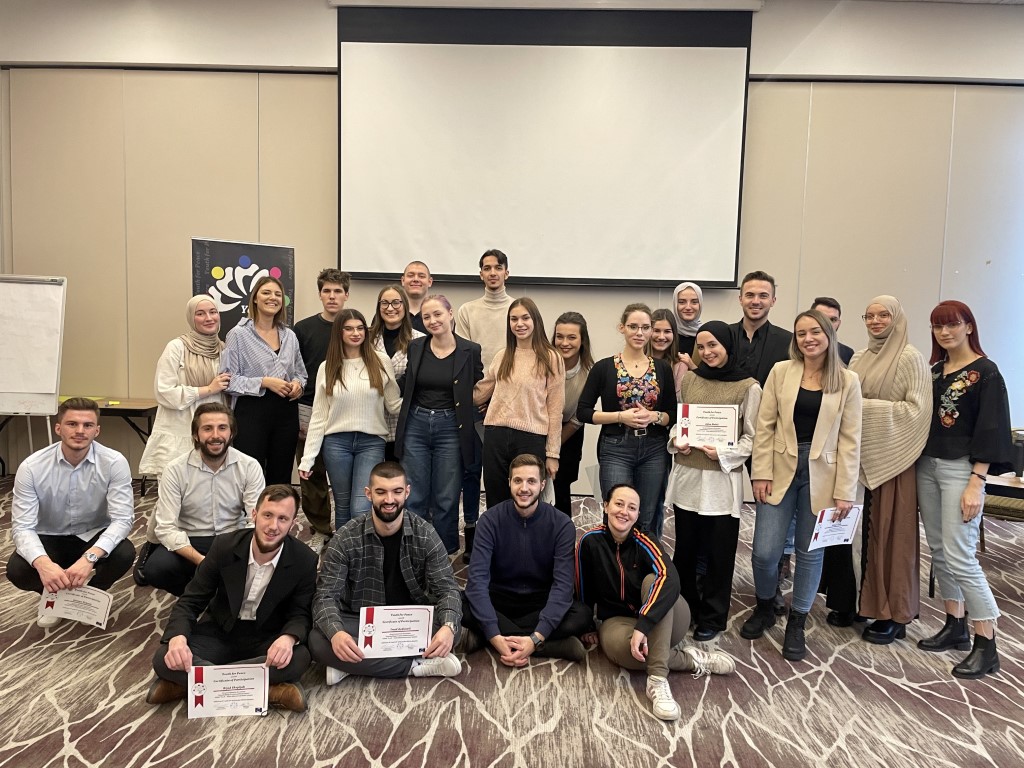 From 15th to 18th December 2022, Sarajevo was a host for the second gathering within the project Y.A.P. – Youth Advocates for Peace. As part of this meeting, training for young people who are active in civil society and work with their peers in the broader field of peacebuilding and strengthening social cohesion was held. Young people, precisely 26 of them from all over Bosnia and Herzegovina, including from Sarajevo, Banja Luka, Travnik, Zenica, Gradačac, Donji Vakuf, Tešnja, Zavidovići, Živinice and Velika Kladuša attended the training. The training was a combination of thematic and methodological approaches. The topics covered come from the area of peace education, and all topics are treated from the perspective of the Balkans and Bosnia and Herzegovina.
Some of the topics discussed during the training were: interreligious dialogue, the role of politics in peacebuilding, the importance of the culture of remembrance in peacebuilding, EU integration and sustainable peace in the Western Balkans, forms of political participation, how young people can participate in peacebuilding. In addition to the facilitators of the Youth for Peace organization, prof. Ph.D. Nerzuk Ćurak, prof. Ph.D. Elmir Sadiković, and assoc. Ph.D. Jelena Brkić-Šmigoc from the Faculty of Political Sciences, University of Sarajevo responded to our invitation to be the lecturers during the training. All topics covered were prepared as interactive participant-oriented workshops using peace education methods such as group work, guided discussion, dialogue method, individual work, cooperative learning, reflection, and debriefing.
Project Y.A.P. - Youth Advocates for Peace is supported by the European Youth Foundation - Council of Europe.