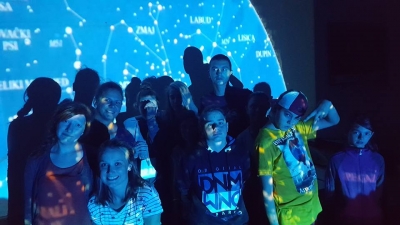 In the period from 5th to 10th August 2016, Youth for Peace, in collaboration with Caritas Italiana, organized the summer camp of 2016 for children and youth. The camp gathered 30 children and youth along with 10 trainers, at the premises of the Franciscan Classical Gymnasium in Visoko. The participants of the camp were children from 'Home for children without parental care Bjelave', 'Mala škola' from Vareš, and children and youth from Sarajevo and Istočno Sarajevo. This year we were joined by volunteers from our partner, Caritas Pescia. The theme of the camp was 'Under our sky'. The participants had the chance to listen and learn about the beauties of Bosnia and Herzegovina. The emphasis was on the cultural and historical heritage of our country, tourist destinations, diversity and treasures.
Special emphasis was on religious traditions, present in Bosnia and Herzegovina, their characteristics, holidays, and acceptance of the other and different through exploring each other's costumes. We believe it is very important to teach the youth about the treasures of their country, its diversity and everything that surrounds them, thus teaching them to love, appreciate and respect their own, in order to respect other countries and cultures which they encounter in the future. The summer camp was once more hosted in Visoko and besides getting to know the city itself, the participants had the chance to climb the Visoko Pyramid of the Sun from which they could see the entire city, learn its history, and hear about the Pyramid.
Through the evening programs, the participants learned about the planets, stars, comets, had fun during the movie night and participated in the election of Miss and Mister of the Summer camp 2016. We, from Youth from Peace, just like the children and youth that participated, are looking forward to the winter camp scheduled for January of 2017.