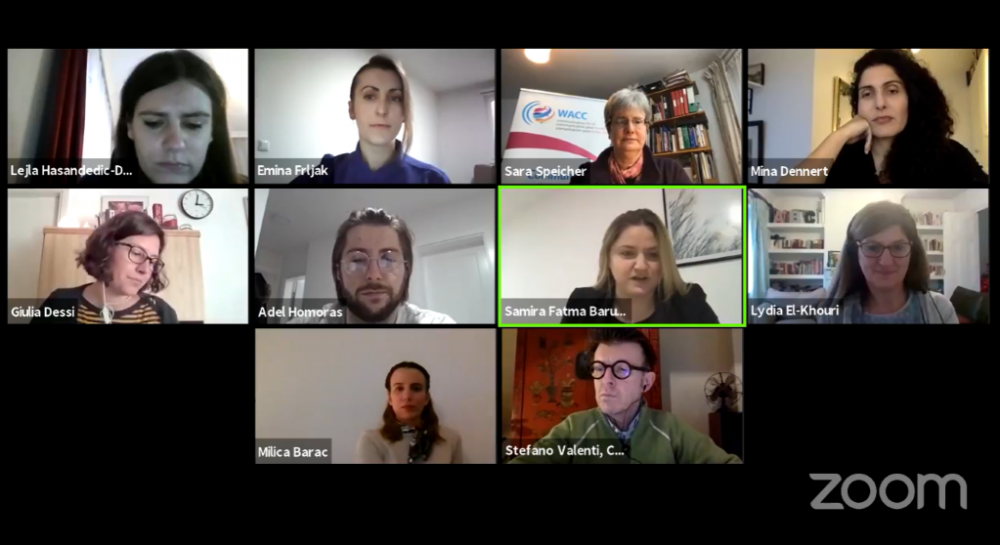 Posljednja panel diskusija u 2020. godini u okviru #ALTerHate kampanje održana je 21. 12. 2020. putem Zoom platforme. Ova diskusija bila je posvećena temi kako se boriti protiv govora mržnje te kreirati alternativu za ponašanje koje je ispunjeno mržnjom. Panel diskusija je bila posvećena razgovoru te otkrivanju različitih perspektiva i načina kako pristupiti borbi protiv govora mržnje. Na paneli diskusiji sudjelovalo je 5 govornika, predstavnika različitih organizacija i inicijativa koje se usmjerene na borbu protiv govora mržnje s fokusom na različite zemlje Europe.
Mina Dennert, švedska novinarka govorila je o mreži #Jagarhar (#Iamhere) koju je pokrenula na društvenim mrežama kako bi pomogla onima koji se suočavaju sa govorom mržnje. Danas mreža broji stotine hiljada korisnika iz nekoliko zemalja Europe sa hashtag-ovima #Iamhere na nekoliko jezika te inspirisala ljude širom svijeta da ustanu i bore se za demokratska i inkluzivna društva.
Lydia El-Khouri, ispred inicijative Detect then Act govorila je o podizanju svijesti među ljudima kako jezik može biti iskorišten kao alat mržnje, te kako zapravo to iskorištavanje prepoznati kombinacijom lingivističkih nauka te tehnologije.
Giulia Dessi, novinarka te predstavnica kampanje Get the Trolls Out predstavila je rad ove kampanje te govorila o borbi protiv vjerski motiviranog govora mržnje. Get the Trolls Out je kampanja fokusirana na nekoliko europskih država te se bavi ispitivanjem te monitoringom vjerski motiviranog govora mržnje u javnom diskursu.
Sara Speicher, govorila je u ime World Association for Christian Communication (WACC) Europe o njihovom akcijama usmjerenim na borbu protiv govora mržnje te ovom prilikom predstavila vodič "Breaking Down the Social Media Divides: a guide for individuals and communities to address hate online" koji je WACC kreirao u svrhu pomoći pojedincima, ali i organizacijama da se efektnije bore protiv govora mržnje.
Stefano Valenti, predstavnik Vijeća Europe govorio je o kampanjama koje je Vijeće Europe provodilo s ciljem borbe protiv govora mržnje te tom prilikom pomenuo poznati "No hate speech" pokret, ali i predstavio novu kampanju borbe protiv govora mržnje usmjerenu na područje Zapadnog Balkana "Block the hatred.Share the love".
Poslije izlaganja panelista uslijedila je diskusija sa prisutnim učesnicima, ali i odgovaranje na pitanja koja su naši pratioci postavili na Facebook stranici putem koje je su mogli da prate diskusiju uživo.